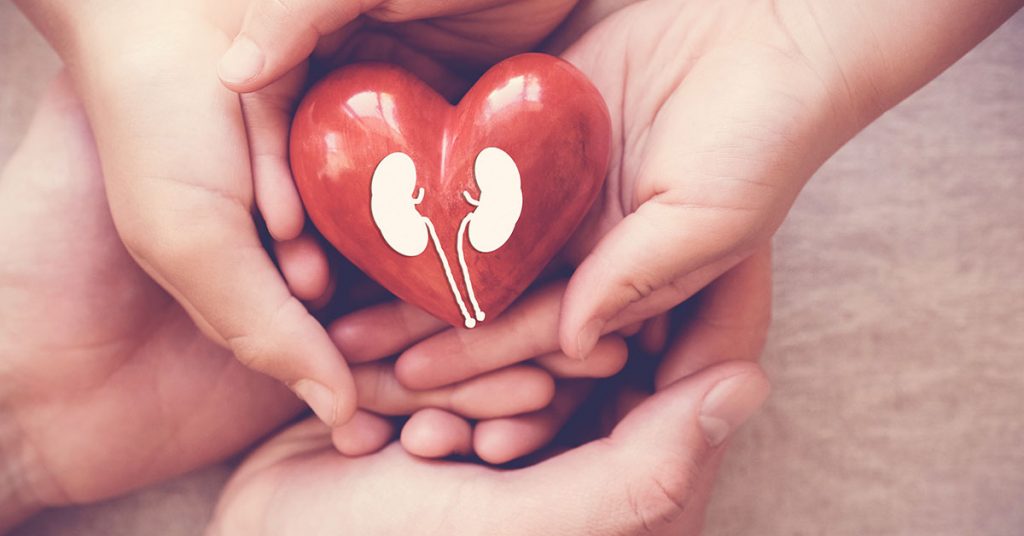 Because February is American Heart Month, it's a good time to focus on the link between heart and kidney health. If you have kidney disease or heart disease, it is important to understand how the two are connected. Why is chronic kidney disease (CKD) so closely linked with heart/cardiovascular disease (CVD)? And what can you do to keep both your kidneys and heart functioning correctly?
The Heart and Kidneys Need Each Other
The heart and kidneys work hand in hand when it comes to your blood supply. The heart is responsible for circulating oxygenated blood to all of the organs, including the kidneys. The kidneys are responsible for cleaning the blood by removing water and waste. If the blood is not filtered through the kidneys, it will contain too much water and waste. This would make the heart less efficient at circulating blood and it would work harder to compensate. At a certain point, it would stop functioning altogether. To put it simply, the kidneys need the heart to function and the heart needs the kidneys to function properly.
Heart Disease and Kidney Disease are Connected
According to the National Kidney Foundation, CKD is linked to high blood pressure, high cholesterol, and diabetes. These factors can increase the risk of heart disease. While not everything is understood about the link between the two conditions, it is clear that if having kidney disease directly increases the chances of developing heart disease. Likewise, if you have heart disease it directly increases your chance of developing chronic kidney disease.
How to Protect Your Heart and Kidney Health
The best defense against both heart disease and CKD is forming habits that promote a healthy heart and healthy kidneys. You should talk to your doctor before making any big lifestyle changes, but there are some basic things you should consider doing. To protect your heart and kidneys, you can take the following steps:
Take all of your prescribed medications
Keep all appointments with your healthcare providers
Eat a healthy diet low in fat
Don't smoke
If you're overweight, lose weight
Get regular physical activity
Manage your blood pressure
Learn how to manage and reduce stress
Avoid using non-steroidal anti-inflammatories (NSAIDs) like ibuprofen
Don't use herbal supplements, as they can cause kidney damage
Talk to your healthcare providers about how to stay up to date with the best treatments and medications
Managing and Treating Kidney Disease and Heart Disease
If you already have chronic kidney disease, you are at a higher risk of developing heart disease. Working with your healthcare providers and a dietician to develop a healthy lifestyle can help you lower your chances of getting heart disease. You can also work with your care team to prevent heart disease from worsening. Or if you have heart disease and are at risk of developing chronic kidney disease, you can work with your healthcare providers to lower your risk.
Treatment and management of cardiovascular disease depend on the nature of the condition. For instance, someone with coronary artery disease would not get the same type of treatment as someone with heart valve disease. The treatment of CKD can also be dependent on different factors such as any underlying causes or the stage of the disease.
Even though treatments may differ, the lifestyle changes you make to manage kidney disease will also help manage your heart disease. What's good for your kidneys is good for your heart and vice versa.
—
At Durham Nephrology Associates, we understand that kidney health and heart health often go hand in hand. That's why we specialize in treating patients with high blood pressure as well as those with kidney disease. If you want to take steps to improve both your heart and kidney health, call 919-477-3005 to make an appointment at our Durham office or 919-690-1035 to make an appointment at our Oxford office. You can also request an appointment online.