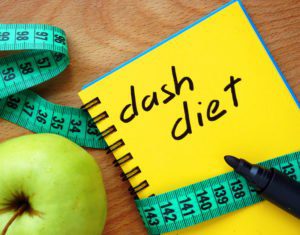 If you have been diagnosed with high blood pressure, kidney disease, or heart disease, your doctor may recommend the DASH diet as part of your treatment plan. Unlike other fad diets focused on short-term weight loss, the DASH diet is an evidence-based nutrition program. Here's what you need to know: 
What is the DASH Diet?
DASH stands for Dietary Approaches to Stop Hypertension. It is not a fad weight-loss diet, but instead a lifelong approach to healthy eating and balanced nutrition that is specifically designed to help prevent or treat high blood pressure (hypertension). The DASH diet was created based on research sponsored by the National Institutes of Health with the goal of reducing blood pressure without the use of pharmaceutical medication.
Because the DASH diet is a healthy way of eating, it offers health benefits besides just lowering blood pressure. Studies have shown that the DASH diet also helps lower the risk for heart disease, stroke and cancer, and reduces the risk of kidney stone formation. As a result, it has been recommended by the National Kidney Foundation and approved by the National Heart, Lung and Blood Institute, the American Heart Association, the Dietary Guidelines for Americans, and also forms the basis for the USDA MyPlate.
What Does the DASH Diet Entail?
According to the National Kidney Foundation, the DASH diet is rich in fruits, vegetables, low-fat dairy products, whole grains, fish, poultry, beans, seeds, and nuts. It is low in salt and sodium, added sugars and sweets, fat and red meats. 
The idea is to not look at fruits and vegetables as a side so much as integrating them into essentially every meal. Ideally, they should be fresh fruits and vegetables that make up a significant portion of the plate.
Here's the detailed DASH diet for a 2,000 calorie diet:
A lot of the protein in the diet is made up of fish and lean cuts of poultry such as chicken or turkey. It is best to trim back the fat from the meat to ensure a lean cut. It should be limited to 6 ounces or less throughout the day, making up a fairly small portion of one's diet as a whole after making this transition.
The dairy in the diet is designed to make up a significant amount of one's calcium intake while limiting the amount of fat in the diet from butter. Going with fat-free milk or 1% yogurt is advised against whole products that may be higher in fat.
The idea of this diet is for the plate to be higher in vitamins and minerals as opposed to fats. The increase in vitamins and minerals helps promote heart health while reducing the risk for other health complications such as cancer and osteoporosis. 
Tips for Starting the DASH Diet
When transitioning over to this diet, it is recommended to do so gradually and not entirely make the jump overnight. Slowly transitioning normally helps one be more successful when attempting a more aggressive dietary change. This, opposed to cold turkey, helps the one adjust into the lifestyle changes associated with a massive shift in dietary focus.
While it's important to ensure that the diet is consists of all the necessary components to help reduce blood pressure, it is also important to ensure that the food is appealing. Otherwise, you're not likely to stick to it regardless of doctor's recommendations. By utilizing flavors from different healthy fats and oils, one can help please the pallet without consuming high amounts of sodium, trans fats or sugars. 
Always aim to eat foods that are fresh and not processed as they will taste better and have fewer preservatives. If you have any questions about whether the DASH diet may be right for you, call (919) 477-3005 or request an appointment online with Durham Nephrology today.