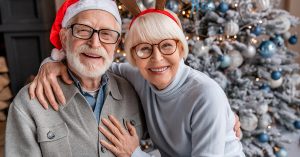 If you're living with kidney disease, you know how important it is to follow the day-to-day treatment plan recommended by your doctor. That shouldn't change during the holiday season. There may be added stress or out-of-the-ordinary circumstances, but you can still enjoy the festivities. By taking care of yourself both mentally and physically, you'll make it through the holidays without too much difficulty.
Travel Safely
Some people with kidney disease think they can't travel during the holidays, especially if they require continuous treatment like dialysis. However, many kidney patients can travel safely with a little advance planning and preparation. The National Kidney Foundation recommends making arrangements for travel at least six weeks in advance. That way you can consult your doctor and arrange for dialysis at your destination. 
If you are managing kidney disease without the need for hemodialysis, you should still take steps to prepare for holiday travel. Make sure family members or friends know your travel plans, keep pertinent medical information handy and plan to make sure you have your medications and other necessities with you. Pack snacks or bag lunch in case you don't have access to kidney-friendly food or there are travel delays.
Know Your Limits
Depending on your unique situation, kidney disease may limit what you can do. Don't push yourself too hard and make sure you check in with yourself frequently to make sure you're feeling ok both physically and mentally.
You should also know your financial limits. People often feel pressured to spend more money than they should on nice gifts for friends and family, causing anxiety and depression. This isn't unique to people with kidney disease, but avoiding stress and other mental strife is important for your health. So, set a budget that is comfortable for you and stick to it.
Stick To Your Diet
Many holiday gatherings are centered around food. So, one of the tricky things about living with kidney disease during the holidays is sticking to your kidney-friendly diet. However, you can find ways to enjoy the festivities while eating right. 
If you're cooking the meal, you can plan the dishes and make sure the ingredients are healthy. There are ways to prepare favorite holiday recipes with approved ingredients so you can still enjoy traditional foods. If you are a guest, it is not rude to talk to the host before the event to discuss your dietary restrictions. Offer to bring a kidney-friendly dish to share so you know you have something to eat.
Also, pay attention to portion size and the number of fluids you consume during the day. According to the American Kidney Fund, you shouldn't have more than 1 liter of approved drinks per day. You can also consult their helpful outline of safe foods to eat and the correct portion size for each course.
Stay Active
Following your approved exercise plan throughout the holiday season is important. Not only is exercise important physically, but it can affect your mental state as well. Because the holidays are stressful, having a physical outlet can be helpful. Plus there are those lovely endorphins to look forward to. 
If you can, try to get in some of your activities outside in the fresh air. This may be more difficult due to weather and shortened daylight hours (which both contribute to mood), but try and take a walk outside when you can.
Get Plenty of Rest
Getting enough sleep is important for your health year-round. Your schedule may be a bit busier during the holidays, but don't let that cut into the time reserved for sleeping. Adequate sleep is crucial for both physical and mental health, so making sure you are well rested is a key part of living with kidney disease.
Find Things to Enjoy
Think about the things that will bring you the most joy during the holidays and prioritize them. Watch your favorite movies, chat with old friends, or prepare your favorite kidney-friendly meal. Volunteering to help an individual or organization is also something that brings a lot of people joy.
Make an Appointment
At Durham Nephrology, we focus on continuous high-quality care for patients with kidney disease. If you have questions about managing your condition during the holidays, call us at (919) 477-3005 or request an appointment online.