Diet and nutrition are essential parts of living with kidney disease. Eating a healthy, balanced diet is one of the best things you can do to help manage your disease and keep it from progressing but don't worry, a kidney-friendly diet doesn't have to be boring. We've compiled our favorite kidney-friendly recipes to help shake up your meal plan: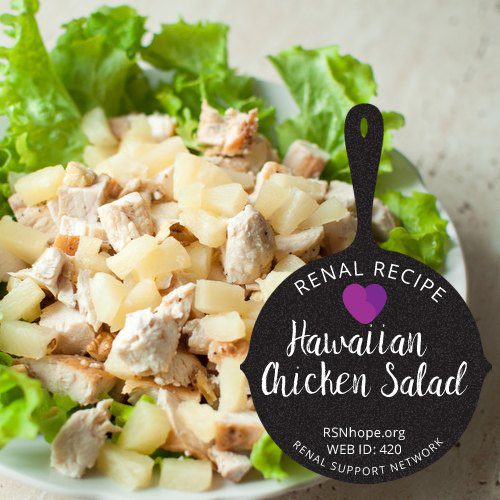 Hawaiian Chicken Salad
Yields: 4 servings
Serving size: 3/4 cup
Ingredients
1/2 Cup Diced Celery
1-1/4 Cups Shredded Head of Lettuce
1-1/2 Cups Chopped Cooked Chicken
1 Cup Drained Unsweetened Pineapple Chunks
1/2 tsp. Sugar
2 tsp. Lemon Juice
1/2 cup Mayonnaise
Dash Tabasco Sauce
1/4 tsp. Pepper
Paprika
Directions
Place celery, lettuce, chicken, and pineapple in a bowl.

Mix sugar, lemon juice, mayonnaise, Tabasco, and pepper together.

Add to chicken mixture and toss to mix.

Serve on a lettuce leaf and sprinkle with paprika.
---
Jalapeno Pepper Chicken
From Georgia Council on Renal Nutrition
Yield: 8 servings
Serving size: 3 ounces
Ingredients
3 tablespoons vegetable oil
2-3 pounds chicken, cut up (skin and fat removed)
1 onion, sliced into rings
1 ½ cups low-sodium chicken bouillon
½ teaspoon ground nutmeg
¼ teaspoon black pepper
2 teaspoons fresh jalapeño peppers, finely chopped and seeded
Directions
Heat oil, brown chicken pieces and set aside, keeping warm.

Add onion rings to oil and sauté. Add bouillon and bring to a boil, stirring often.

Return chicken to pan; add nutmeg and black pepper. Cover and simmer for 

35 minutes or until chicken is tender.
Stir in jalapeño peppers, and simmer for another minute.
---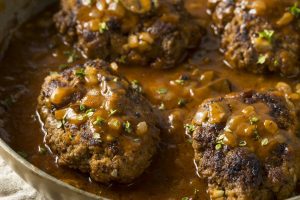 Salisbury Steak
From Georgia Council on Renal Nutrition
Yield: 4 servings
Serving size: 3 ounces
Ingredients
1 pound chopped steak or lean ground beef,
chicken or turkey
1 small onion, chopped
½ cup green pepper, chopped
1 teaspoon black pepper
1 egg
1 tablespoon vegetable oil
½ cup water
1 tablespoon corn starch
Directions
Mix together meat, onion, green pepper, black pepper, and egg. Form into patties.

Heat oil in a skillet, add patties and cook on both sides.

Add half of the water and simmer for 15 minutes. Remove patties.

To meat drippings, add remaining water and corn starch. Simmer while stirring 

to thicken the gravy.
Pour gravy over steak and serve hot.
---
Turkey Stuffed Bell Peppers
From National Kidney Foundation of Arizona
Yields: 4 servings
Serving size: 1 pepper half
Ingredients
2 medium green bell peppers (red, if preferred)
1 tablespoon oil
1/2  cup finely chopped onion
12 ounces ground turkey
1/4 teaspoon cumin
½ teaspoon Mrs. Dash Italian Seasoning
1 cup cooked rice
2 tablespoons grated Parmesan cheese
¼ cup egg substitute
Directions
Cut tops off the bell peppers, core out the seeds. Parboil in boiling water 5 minutes or until tender. Remove from water. Set aside and cool.

Heat oil in a skillet and saute onion until soft. Add turkey meat and brown well. Remove excess liquid and fat.

Add cooked rice and spices to the mixture. Mix thoroughly.

Cut peppers in half and place in small baking dish. Spoon 3/4 cup of meat/rice into each pepper half. 

Sprinkle tops with Parmesan cheese. Bake in a 350-degree oven for 25-30 minutes.
---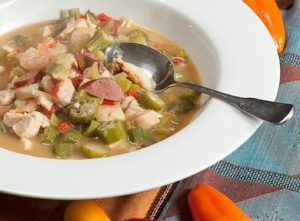 Chicken Seafood Gumbo
Yields: 12 servings
Serving size: 1 cup
Ingredients
1 tablespoon canola oil
3 celery stalks, chopped
1 yellow onion, chopped
1 red bell pepper, chopped
2 skinless chicken breasts, chopped
8 ounces lean smoked turkey sausage, sliced
1/2 cup canola oil
1/2 cup flour
1 tablespoon salt-free Cajun seasoning
2 quarts low sodium chicken broth
1/2 pound cooked shrimp
6 ounces canned crab, drained
3 cups frozen okra, chopped
Directions
Heat 1 tablespoon canola oil in a 4.5 quart or larger pot over medium heat.

Add celery, onion, bell pepper, chicken, and sausage and cook for 10 minutes.

Remove mixture from pot and set aside.

Reduce heat to medium.

Add 1/2 cup canola oil and stir in flour to make a roux.

Stir in Cajun seasoning and let cook for a minute or more depending on how dark you want your gumbo to be.

Very slowly stir in chicken broth, stirring constantly to avoid lumps.

Increase heat to medium-high and bring mixture to a boil and let boil for about 10 minutes or until it starts to thicken slightly.

Reduce heat to medium and add shrimp, crab, and okra, and add the chicken mixture back into the pot as well.

Cook for 10 minutes or until heated through.
---
Keep in mind that no two kidney patients are alike. Dietary and nutrition needs will vary based on your individual needs. For those with chronic kidney disease, a low-protein diet is recommended, but for someone on dialysis, a high-protein diet is best. 
We recommend that patients utilize the My Food Coach by the National Kidney Foundation. A mobile app available for iPhone and Android devices, My Food Coach is designed to help you understand and manage all of your nutritional requirements, especially if you have kidney disease or other dietary concerns.
The health care professionals at Durham Nephrology Associates can help by providing important support and education about dietary requirements and modifications that could potentially slow the progression of kidney disease and improve your overall health. To schedule an appointment, call (919) 477–3005.