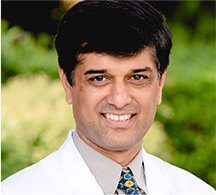 Dr. Kathresal joined Durham Nephrology in 2009. Following his medical education at Bangalore University, India, he trained at the University of Arkansas and LSU/ Ochsner clinic in New Orleans. He is Board Certified in Nephrology and has been practicing medicine for over 25 years. He is in charge of Clinical Research at Durham Nephrology Associates and has served as the Principal Investigator for over 35 clinical trials in Nephrology.
He serves as the Chair of the Committee for professional enhancement (Peer Review) and a member of the Leadership Council at Duke Regional Hospital. He is Medical Director for Home Dialysis and Center Hemodialysis Units.
His clinical interests include hypertension, kidney stones, chronic kidney disease, and home dialysis.