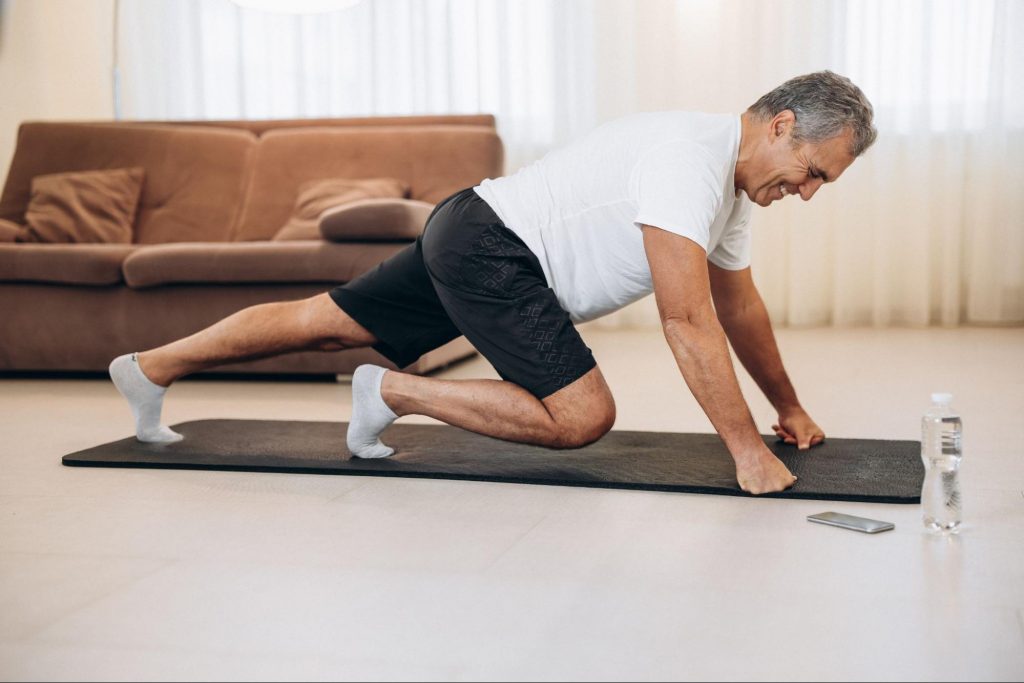 February is American Heart Month, a time to emphasize the importance of cardiovascular health, and more specifically, hypertension, one of the leading factors for heart disease. Lifestyle changes are often the first course of action for those needing to lower their blood pressure. Weight loss and exercise both have the potential to manage and lower high blood pressure. During the winter months, it can be challenging to find the motivation to get moving, but fortunately, there are many different ways you can exercise in the comfort of your own home. In this blog, we're helping you maintain heart health at home by sharing the best indoor exercises to elevate your heart rate. 
Durham Nephrology's Role in Heart Health
Durham Nephrology specializes in caring for both those with chronic kidney disease as well as those with high blood pressure, and we even have a special blood pressure program. In this program, we use blood pressure cuffs that send information to our office through an application on your smartphone. This technology allows us to track how well medications are working, and make adjustments in real-time between visits, to more rapidly and reliably bring blood pressure under control. While Durham Nephrology can get you on track with blood pressure management, it's essential that you take additional steps at home to see results. One of these at-home steps includes exercise. Here are some of our favorite indoor exercises to elevate your heart rate.
Best Indoor Exercises To Elevate Your Heart Rate
HIIT
HIIT stands for high-intensity interval training, and it is one of the most effective forms of exercise to lose weight and build muscle. In this aerobic exercise, intervals of exercise are performed in short bursts, during which a person's heart rate reaches at least 80 percent of its maximum capacity. This is followed by periods of rest or less intense exercise. Some of the most common HIIT moves include burpees, jumping jacks, push-ups, sit-ups, squats, and mountain climbers. In addition to being beneficial for your heart, HIIT is quick, effective, and can be done in the comfort of your home with the help of a timer. If this form of exercise sounds too intense, try modifying the exercise. As long as your heart rate is raised, you're likely reaping the heart benefits of cardio.
Power Yoga
Reducing stress is another important factor in controlling your blood pressure, which is why yoga is a great way to relieve stress while exercising. Yoga is often associated with slow stretching, but power yoga, a more rapid form of traditional yoga, can also elevate your heart rate. Free, online classes are available online, so you can target multiple factors contributing to high blood pressure, all without leaving home.
Spinning
With the popularity of Peloton, spinning has certainly become one of the most common at-home indoor exercises to elevate your heart rate. Whether it's a Peloton or a traditional stationary bike, this workout is a great way to get your blood pumping at any point in the day. The only downside is that spinning requires equipment to get started, unlike some of the other exercises on this list.
Dance Cardio
Like traditional forms of cardio, dance cardio is a fun and effective form of aerobic exercise. Studies have shown that it can improve your cardiovascular health and put you in a better mood. One of the best parts about this form of exercise is that it requires zero equipment, and there are tons of different resources available online or even on your TV to get you started.
Climbing Stairs
For many Americans, access to cardio exercise is easier than they think! Climbing stairs to your home or office is a great way to get your blood pumping throughout the day. If you have a set of stairs within your home, going up and down a couple of times is one of the best indoor exercises to elevate your heart rate.
Jumping Rope
Jumping rope is a classic and effective cardiovascular exercise. This workout also gets the heart rate up quickly, which means that only ten minutes a day, which means you can get the same health benefits associated with moderate-intensity activity in about half the time. 
The Bottom Line
Whether you're working out at home, outdoors, or at a gym, exercise is a fundamental part of caring for your heart, kidneys, and overall health. Contact a healthcare professional to discuss which exercise routine is appropriate and safe for you.
Make an Appointment
At Durham Nephrology, our team is experienced in providing treatment and guidance to kidney patients, including looking out for your heart health and overall wellness. If you have questions about taking care of yourself while dealing with kidney disease or high blood pressure, call us at 919-477-3005 to talk to a staff member and make an appointment.